Product Description
Welcome to our store ,all your beauty dreams come true from here .
Click here to get your free coupon
First : Our factory is one of the biggest suppliers of hair products in China ,our branded beauty full lace human hair wigs is very popular in USA, Uk and parts of Afrida .We Import the material from Brazil and Indian as well as Malaysia directly to keep the premium quality of our products
Second : We have many experienced workers who have been in this field for about 10 days ,we can supply u the best quality hair .
Third : our sales and service people are trained to know our products and to be friendly and helpful .
Fourth : we have many full lace wigs ,lace front wigs ,glueless full lace wig ,silk top lace wigs and U part wigs instock which can be shipped out in 2 days with free shipping .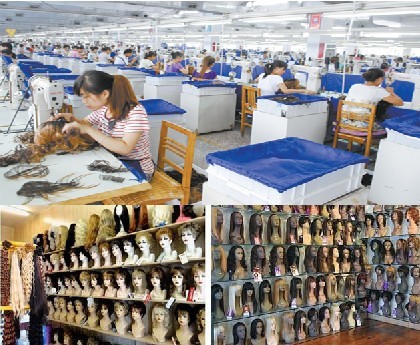 Hair Color: natural black,#1 #1b #2 #4 will be produced quickly,pls leave us the message about the hair color . (natural black can be dyed. #1,#1b,#2,#4 can not be dyed.)
Other Color +25days +10% Extra cost.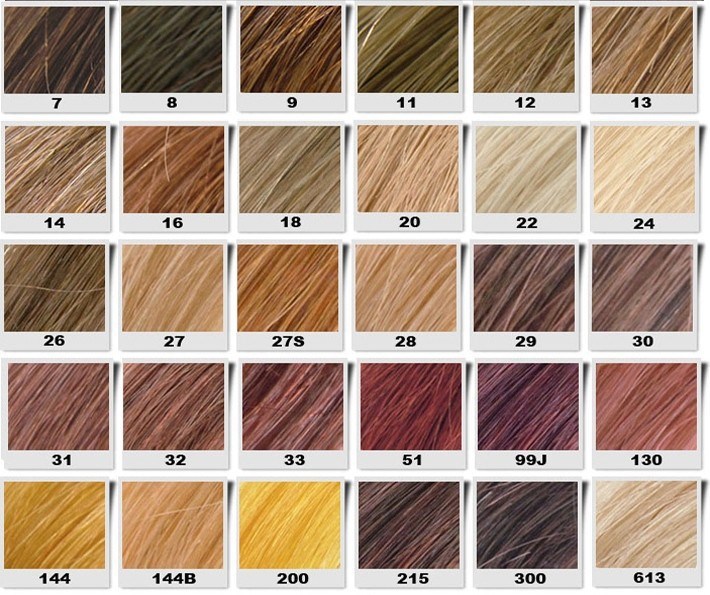 Lace Color: Medium Brown, Light Brown.pls leave us the message about the Lace color.
Cap Size: large(cir.23inch),medium(cir.22inch),small(cir.21inch).pls leave us the message about the cap size.
Baby Hair: Around the perimeters.
Hair Style: Freestyle, which gives you the ability to part anywhere on the cap.
Can be Worn in High Ponytail: Yes.
Hairline: The wig in the photos has an amazing natural hairline, with realistic shaped temples and slight sideburns. It looks good and feel gorgeous, perfect for someone looking for an entirely natural appearance.
Hair Curl: straight.we can also make the curls as your picture.if you want, pls leave us the message about the hair curl.(ordinary curl is free, kinky straight and large yaki need $10 Extra cost)
*Please be aware that due to your computer monitor display the color may have some difference between the picture and the physical item.
important information:
Pls leave us the message about the hair color, lace color, cap size and hair curl.
If you not leave the message about this information,
the default option:
1) hair color: natural color
2) lace color: medium brown
3) cap size: medium
4) hair curl: brazilian curl as picture
Hair Length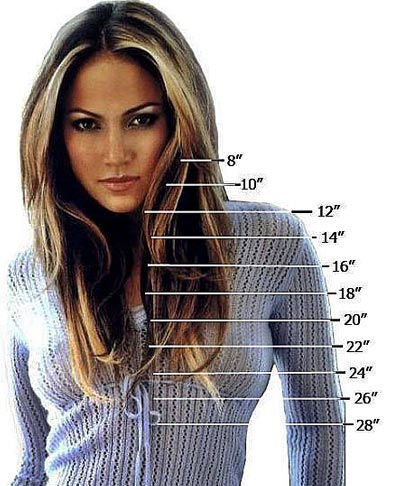 How to take on a natural look lace wig
| | | |
| --- | --- | --- |
| | | |
| 1. Clean your forehead area around hairline using soft cloth and cleaning liquid | 2. Put double-sided tapes special for lace wig on forehead starting mid-forehead as a guide. Put more strips until they cover most of hairline. | 3. Peel off skin to reveal sticky surface of tape |
| | | |
| 4. Place front lace wig on head making sure hairline of wig is aligned with your own. Make sure to check near ears to inspect alignment. | 5. Cut of lace one inch section at a time. Wig's hairline should blend in with original hairline | 6. Style the wig as you wish. And finally, remember to smile, because you look beautiful! |
How To Wash Wigs
| | | |
| --- | --- | --- |
| | | |
| DetangleGently remove tangles with a wig brush or comb, working gradually from the ends to the base of the cap. | WashRinse wig in cool water. Keep the water flowing in the same direction of the hair. Do not soak in basin as this will cause the hair to tangle. Distribute wig shampoo evenly throughout the hair using your fingers. | DryGently press with a towel to remove excess water. Place on a folding wig stand and allow to air dry. |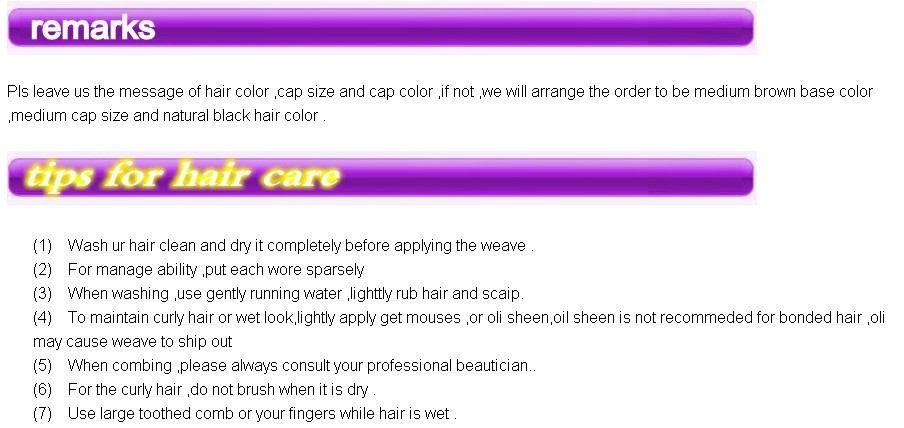 Shipment
In order to offer premium quality wigs, all the wigs will be shipped directly from our factories to first and then after careful checking, will ship the item out.
Handling Time
Delivery from factories to us may take 2-3 days so usually we will ship your item out in about 3 business days after payment received. As factories don't work on weekends, handling time may take 4-5 business days for order placed on Friday. Once wig is shipped out, we will offer tracking number via email. For custom made order, we will need 28 or 35 days to produce the item and then dispatch it.
Shipping Options & Time
| Country | Standard Shipping – FREE | DHL – $15 | UPS – $25 |
| --- | --- | --- | --- |
| Hong Kong, Macau | 4-7 business days | 2-4 business days | 2-4 business days |
| Japan, P.R Korea, R.Korea, Mongolia | 5-10 business days | 4-7 business days | 3-5 business days |
| Cambodia, Indonesia, Malaysia, Philippines, Singapore, Thailand, Vietnam | 4-7 business days | 3-5 business days | 2-4 business days |
| Australia, New Zealand, Papua New Guinea | 4-7 business days | 4-7 business days | 3-5 business days |
| Austria, Belgium, Denmark, Finland, France, Germany, Greece, Ireland, Italy, Luxembourg, Malta, Norway, Portugal, Spain, Sweden, Switzerland, U.K. | 5-10 business days(Note: If you live in Italy, Arrival time need 25-30 days) | 4-7 business days | 3-5 business days |
| Canada, U.S.A. | 5-10 business days | 4-7 business days | 3-5 business days |
| Other country buyer | Please contact us shipping cost | Please contact us shipping cost | Please contact us shipping cost |
Handling time and customised time are excluded in the shipping time
The total delivery time = handling time/production time + shipping time
Please note:
1. we cannot ship via a traceable method to any post office boxes. Delivery time cannot be guaranteed nor can the package be tracked. We encourage all deliveries be made to a physical address so packages can be tracked.
2. For the cardholder's protection, the company reserves the right to send orders to the billing address if a differing shipping address cannot be verified.
3. We are not responsible for any duties, taxes, or additional charges that may be charged by Customs for any International deliveries. But we will declare the wig as synthetic wig and worth less than $30 to help avoid the duties.

FAQ
1.Is the wigs made of 100% human hair?
YES. All of our lace wigs are made of 100% Indian Remy human hair and you can treat it as your own hair.
2.What is Lace Front Wig and Full Lace Wig?
Lace Front Wig: "Lace Front Wig" or Front Lace Wig only has lace in the front of the wig and the remainder of the wig is made from a regular netted wig cap or other materials such as thin-skin. You are not able to wear a front lace wig in high up dos or ponytails. Full Lace Wig: "Full Lace Wigs" are lace wigs which are designed with the entire wig cap being made from lace as well as lace all around the perimeter of the wig. Full lace wigs allow you to wear your hair in high up dos and ponytails. Upon applying & adhering the lace wig, a flawless, natural and undetectable hairline is created.
3.What are Bleached Knots?
When a dark hair is tied to the base of a lace wig with a knot, you can see a dark dot on the skin, especially when the base is lace. Lace cannot hide the knot in the same way a monofilament base does. Bleached knots usually are only done at the front of the lace wig and it helps create the illusion that your hair is growing out of your head.
4.What does Density refer to?
The density refers to how thick the hair is and what density you order is really based on personal choice. Most women achieve a natural appearance with light to medium or medium density; however, your choice will depend on your styling preferences and individual profile.
5.How long I can expect the wig to last?
The life of your wig will depend on your use and care of it. If handled properly, it should last you about 6 months before needing hair added or a repair. If used as your main form of hair replacement and you are using daily, it is realistic to expect it to last 3-6 months before needing a repair or hair added.
6.If I place an order today, when will I receive it?
Normally we need 3 business days to process your order and if you choose the free shipping, it will take another 5-10 business days to reach you. DHL/Fedex 4-7 business days and UPS is 3-5 business days. I am sorry at present we don't offer overnight shipping.
7.What is your exchange and refund policy?
How to ExchangeOnly eligible wigs can be exchanged. When you want to exchange the wig, please contact us first about the problem you met, we will try our best to solve it. If your problem can't be solved without exchange, we will be happy to accept it and add your name in our exchange system. You can then send the item back to the address on the original shipment. Exchange without contacting will be charged 10% handling fee.
Exchange Policy1) If you are not happy with the wig, you can exchange the eligible item for FREE! We will waive the return shipping charges (10 dollars) for the first time. If you need to exchange the eligible item twice or above, all other extra fees including postages are on you. Our postage and handling is about $20-$30.
2) The same shipping information and shipping method submitted with your original order will apply for your exchange order, unless specified.
3) Any balance remaining after your exchange will be refunded to yout account submitted with your original order.
How to ReturnOnly eligible wigs can be returned. Please contact us first about the problem you met, we will try our best to solve your problem. If your problem can't be solved without return, we will be happy to accept it and add your name in our return system. You can then send the item back to the address on the original shipment. Return without communication will be rejected.
Return PolicyWe gladly accept returns on all eligible products. We do not sell refurbished or previously owned products, therefore, in order to return these products to the manufacturer, a 30% restocking fee will be applied for all returned merchandise. Return postage is on buyer.
Share and Enjoy